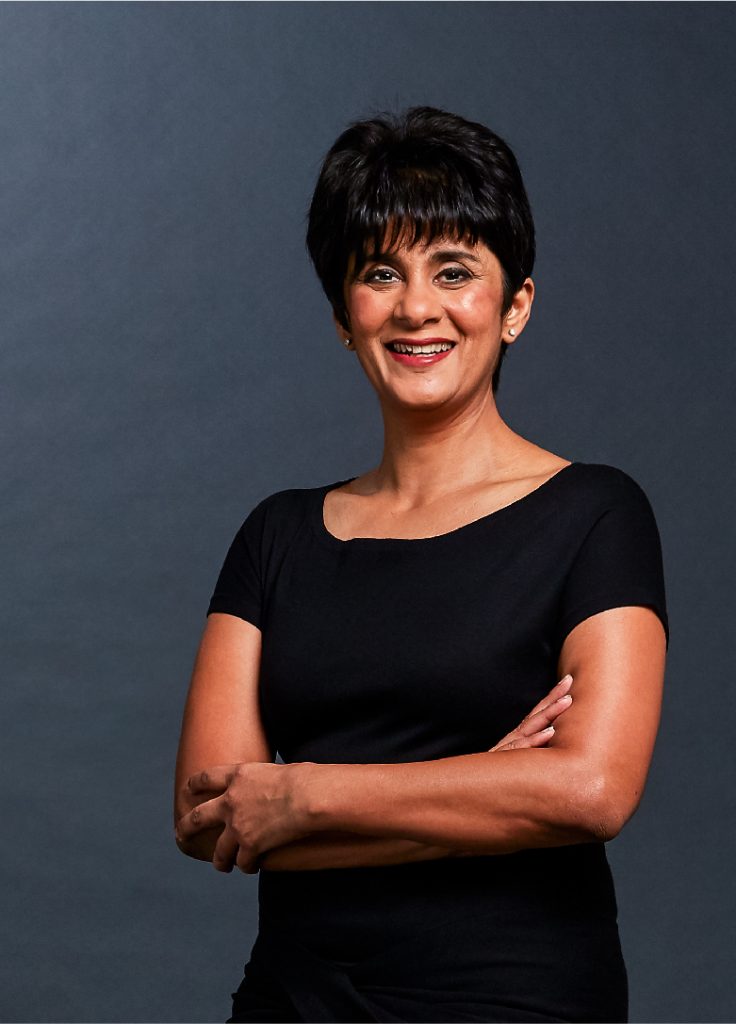 PRACTICE FOCUS
Ira has extensive experience in a wide spectrum of commercial and civil litigation cases. Her key areas of practice are in insolvency law, commercial frauds, banking litigation and land matters including land acquisitions. She has dealt with clientele in many different industries and is an experienced trial and appellate lawyer.
EXPERIENCE AND CREDENTIALS
In the field of dispute resolution, Ira has been ranked by Chambers Asia Pacific in the 2016 to 2023 editions and a Distinguished Practitioner by Asialaw Leading Lawyers 2020 to 2023. She has also been ranked Litigation Star in the 2021 – 2023 editions of Benchmark Litigation Asia-Pacific, amongst Benchmark Litigation Asia-Pacific's Top 100 Women in Litigation 2020-2023, Benchmark Disputes Star in the 2014, 2018, 2019 and 2020 editions of Benchmark: Asia Pacific and as a Local Dispute Star in its 2013 edition.
She has also been ranked by Asia Pacific Legal 500 in the 2014 to 2016 and 2002/2003 editions. In the 2007/2008 edition of Asia Pacific Legal 500, she was ranked as an experienced lawyer in shareholder disputes, commercial fraud and company law litigation, in the 2013 edition as a Recommended Lawyer and in the 2014 edition as a Leading Individual and Recommended Lawyer. She was also awarded the Disputes Star of the year award for Malaysia for the inaugural Asialaw Asia-Pacific Dispute Resolution Awards 2015. 
Ira has acted in several commercial and insolvency related matters as well as in matters relating to land acquisition. Her experience includes successfully acting for a company on liability issues against the Government of Malaysia for a wrongful acquisition of 263 acres of land in Kuala Lumpur and consequent trespass.
Ira is a member of, and was the co-chairperson of the International Women's Insolvency & Restructuring Confederation (Malaysia Network) from 6 January 2017 to 10 February 2020. She is also actively involved in Bar Council Committees. She was the Chairperson of the Bar Council's Advocacy Training Committee (2016-2018) and is an advocacy trainer for the Malaysian Bar. She is also a member of its Corporate and Commercial Law Committee.
For her recent presentations, Ira was a moderator and speaker at 'Corporate Rescue Mechanisms: Schemes of Arrangement, Judicial Management and Corporate Voluntary Arrangements' organised by the International Women's Insolvency & Restructuring Confederation (Malaysia Network) on 26 March 2021 and a speaker at 'Judicial Management and Corporate Voluntary Arrangements — The Scheme and Practical Aspects' organised by the Bar Council on 8 May 2019 and 17 October 2019. In July 2018, she was a panellist at the 'Financial Restructuring' session of the Singapore Insolvency Conference 2018 and a speaker at a 'Seminar on Cross-Examination' organised by the Bar Council on 1 March 2018. On 29 March 2017, she was a presenter on 'Appellate Advocacy' seminar at the Kuala Lumpur Bar Committee and in November 2017 she was a panellist at the Malaysian Women Lawyers Conference on the session titled 'Enhancing Leadership and Performance Skills for Women Lawyers' organised by the Bar Council and the Association of Women Lawyers. She also presented on 'Corporate Insolvency' at a seminar on 'Critical Components of Company Law: The Road Ahead' at the Bar Council Malaysia Outreach Programme on 28 July 2016.
Amongst other publications, Ira is a contributor to 'Restructuring And Insolvency – A Commentary' published in 2023 by Sweet & Maxwell, the 'Law and Practice of Corporate Insolvency in Malaysia' published in 2019 by Thomson Reuters Asia, contributing editor of the 'Malaysian Civil Procedure' 2021, 2018 and 2013 published by Sweet & Maxwell Asia, and co-author of 'Governance – Director's Responsibility in relation to Insolvency' in the Corporate Voice published by the Malaysian Institute of Chartered Secretaries and Administrators. She is also an author of the Malaysian chapter on Enforcement of Foreign Judgments published by Wolters Kluwer Law & Business in the May (2010) supplement.
A graduate of Lady Shri Ram College, University of Delhi, India with a Bachelor of Arts (Hons) degree in Economics, Ira then obtained a Bachelor of Laws (Hons) degree from the University of London, England (External Degree).
She was called to the Bar of England & Wales in July 1986 and was admitted as an advocate & solicitor of the High Court in Malaya in July 1987.